This page displays the First Period, Georgian, and early Federal houses in Andover, Massachusetts. The images, and text were provided by the Andover Historical Commission in the 1980's, and are online through the Massachusetts Historical Commission site (MACRIS). Photos are displayed alphabetically in order of street name, and some house numbers may have changed. Dates of construction on the MACRIS site were often based on local tradition rather than construction analysis, and should be therefore considered unreliable. View more historic houses on the Andover Historic Preservation website.
To request or add information to this page, please contact Gordon Harris at historicipswich@gmail.com. Visit the About page to request additional research, including a deed and history search, a PDF report and creation of a page about your house on this site.
On the houses shown below, click on the ANV link to view the house at the MACRIS site, and click on the INV link to download a PDF file about the house, produced by the Andover Historical Commission.
Resources:
This saltbox house was moved from North Andover by Helen Shattuck Yeaw to this property in 1948 – 1949. The unconfirmed construction date is listed as 1745 in the town assessor records. This property was once part of a larger parcel of land owned by John H. Abbot. Read more at Andover Historic Preservation.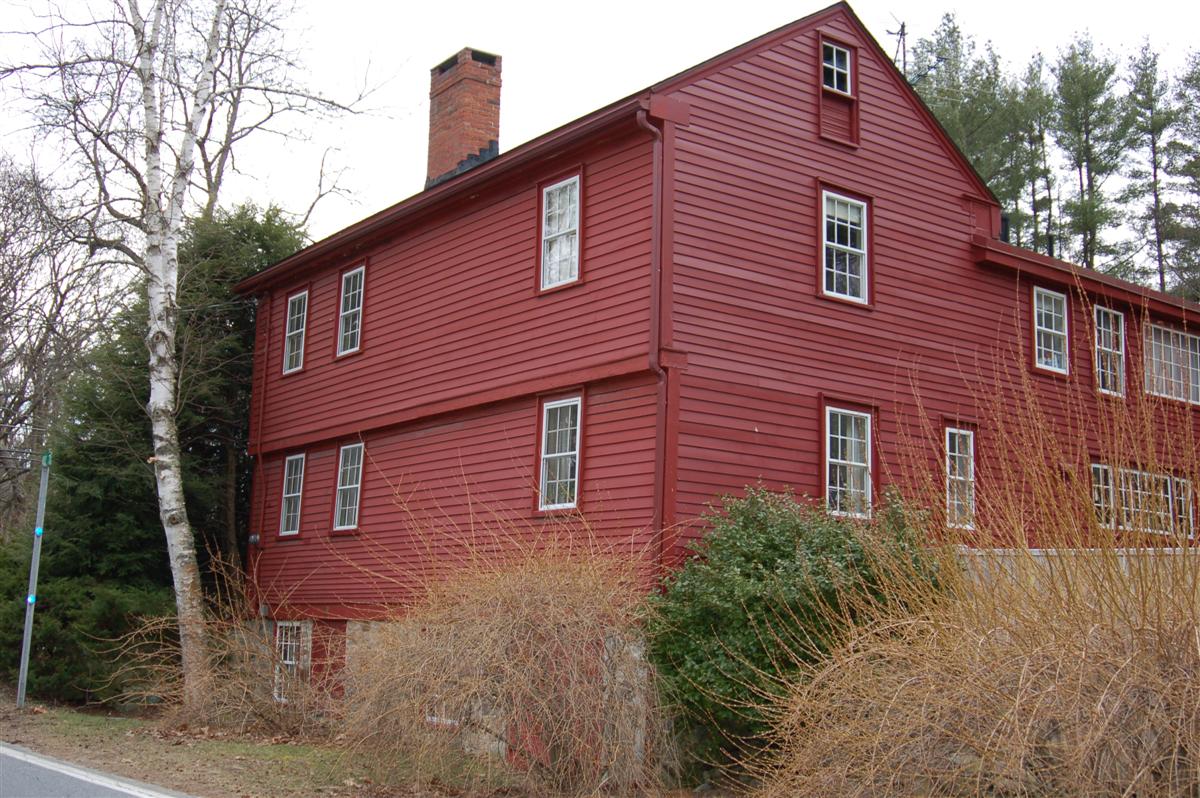 This unusual house has a Federal front façade but an overhanging gable roofed second floor in the rear. Property deeds "with buildings" trace back to when John & Louis Sawin sold a two acre parcel with building at the north end of Preston's Plain to John Herrick on Oct. 16, 1778. Alfred Poore's History of Andover, printed in1863 states there was an earlier house at this location was dismantled and removed: "Now this part of it is the cottage of Dr. Whiting's place, and one part is incorporated into the lower story of Mr. Goldsmith's house, and was removed there when the house was taken away about 1790." Read more at Andover Historic Preservation.
Oxford Dendrochronology Lab determined that the eastern (right) side of the house at 9 Andover St. was built in 1711, and the western portion, to the left of the entryway, was built in 1713. The house was long thought to date to 1685 and is named for Benjamin Abbot, son of an early settler of Andover. The house remained in the Abbot family until 1933. There are four large rooms on the ground floor, a huge chimney and a fireplace in every room. A layer of brick in the walls acts as insulation.  Leanto at the rear was added. The house was acquired July 28, 1933, by Arthur Stone Dewing who carried out a partial restoration. Read more at Andover Historic Preservation and at Wikipedia.
Estimated to have been built about 1685, the house at 5 Argilla Rd. is one of Andover's oldest houses, a part of which was supposedly built by Thomas Abbot, a third-generation colonist. who bought the property with a house on it in 1652 from Job Tyler. The kitchen is said to be the earliest original room, dating possibly to 1671. Thomas Abbot II acquired the property through inheritance and built or reconstructed a house here in 1697, which is the more probable date of original construction. The house remained in the Abbot family until 1797, when it was sold to Dr. Symonds Baker. His descendants retained ownership into the 1980s. The house was listed on the National Register of Historic Places in 1982. View Wikipedia and Andover Historic Preservation.
Samuel and Sally Bailey purchased 5 acres of land in the Bailey Rd. area on Mar. 18, 1790. The main block of the house at 125 Bailey Road is a double pile (2 rooms deep), three bay, two-story structure with a gable roof, consistent with late Georgian or Federal houses constructed between 1780 -1830. On the right is an elongated gable-roofed ell of probable 19th Century origin that appears to have once been an English-type barn. Between the two sections is a small two-story Victorian-era ell that probably dates to when the barn and house were connected. The Bailey family maintained ownership through the mid-20th Century. Read more at Andover Historic Preservation.
The house at 4 Bancroft Rd. was once part of the Pearson Farm on Main St., located where the Phillips Academy hockey rink complex was built. It was moved to this location in 2006 where it was oriented to face east. View this house at Andover Historic Preservation.
No construction information is available for the house at 72 Brundrett St. The 2-pile depth is indicative of the mid-18th Century, but the asymmetrical façade and central chimney suggest the possibility of an earlier house that was expanded. A 20 acre portion of this property was purchased by Moses Bailey (aka Bayley) on July 20, 1768 from Ralph Holbrook of Andover and Samuel Aspinwall of Brookline. One deed refers to a Nathan Boyle dated Nov. 11, 1735 which includes a portion of this parcel.
Construction of the house at 57 Central St. in Andover has traditionally been attributed to John Lovejoy Abbot (1648 – 1721) around 1678, but by appearance seems more likely to be at least a couple of decades later. The original kitchen is said to be the "Oldest Room in Andover." The house has been restored several times, and moved more than once. Greatly modernized, little if any of the original interior woodwork remains, but photos on the Redfin site show a beveled summer beam in at least one room.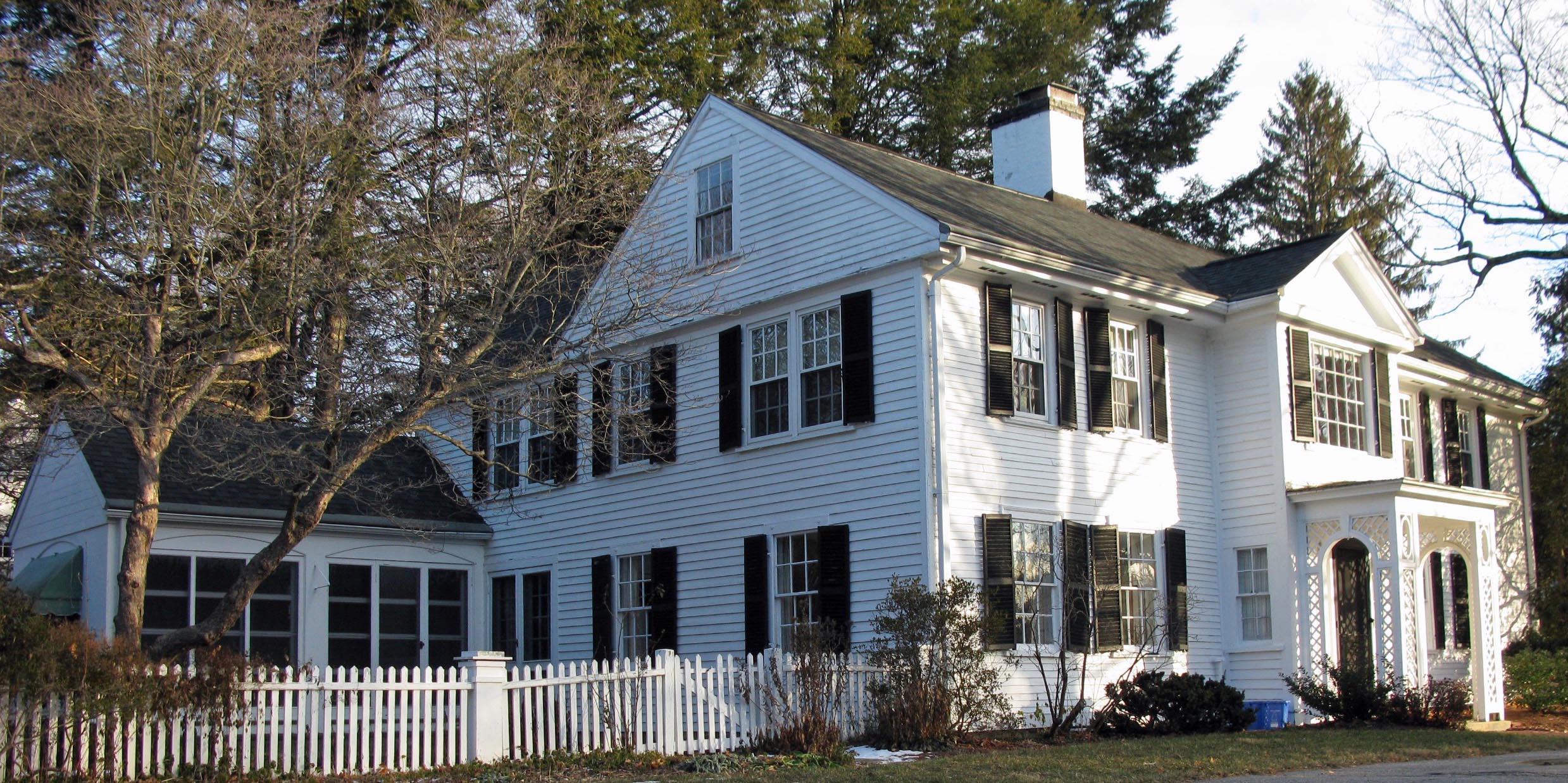 The elegant house at 59 Central St. in Andover was constructed on a section of the original homestead of George Abbot, a settler of Andover. A date of 1734 was assigned by the Andover Historical Society, but the depth and surviving interior features suggest a fine house from the late Georgian or early Federal era, c 1800. The house is said to have been joined with the house at No. 57 until 1926.
The history and architecture of the house at 88 Central St. in Andover coincides with the Andover settlement period (1650-1715). Rehabilitation by 20th century owners of this dwelling restored its vernacular Georgian styling. Part of this house may have been the two-room home of Sheribiah Ballard (1688-1749) who built on the land of his father. Sheribiah sold to Capt. John Foster, 1749, "homestead, meadows, building." The house has a central chimney and is of single pile depth. Visit Andover Historic Preservation.
The former Abbot Tavern has traditionally been claimed to have been built about 1680, but the late Georgian/Federal structure first appears in town records in 1776, when Isaac Abbot petitioned to operate a tavern. It hosted George Washington when he visited New England in 1789. The tavern served as the town's first post office, and Isaac Abbot also served as postmaster, selectman and town clerk.
This home is said to have been built by Dr. Nehemiah Abbott (1717-1785) on the "old North Parish Road" also known as the "Boston Rd", on the border of the two parishes. After Dr. Abbott moved to Chelmsford in 1770, the property was owned by Edward Weld and his wife Hannah, who may have purchased it from Dr. Nehemiah Abbott or his family.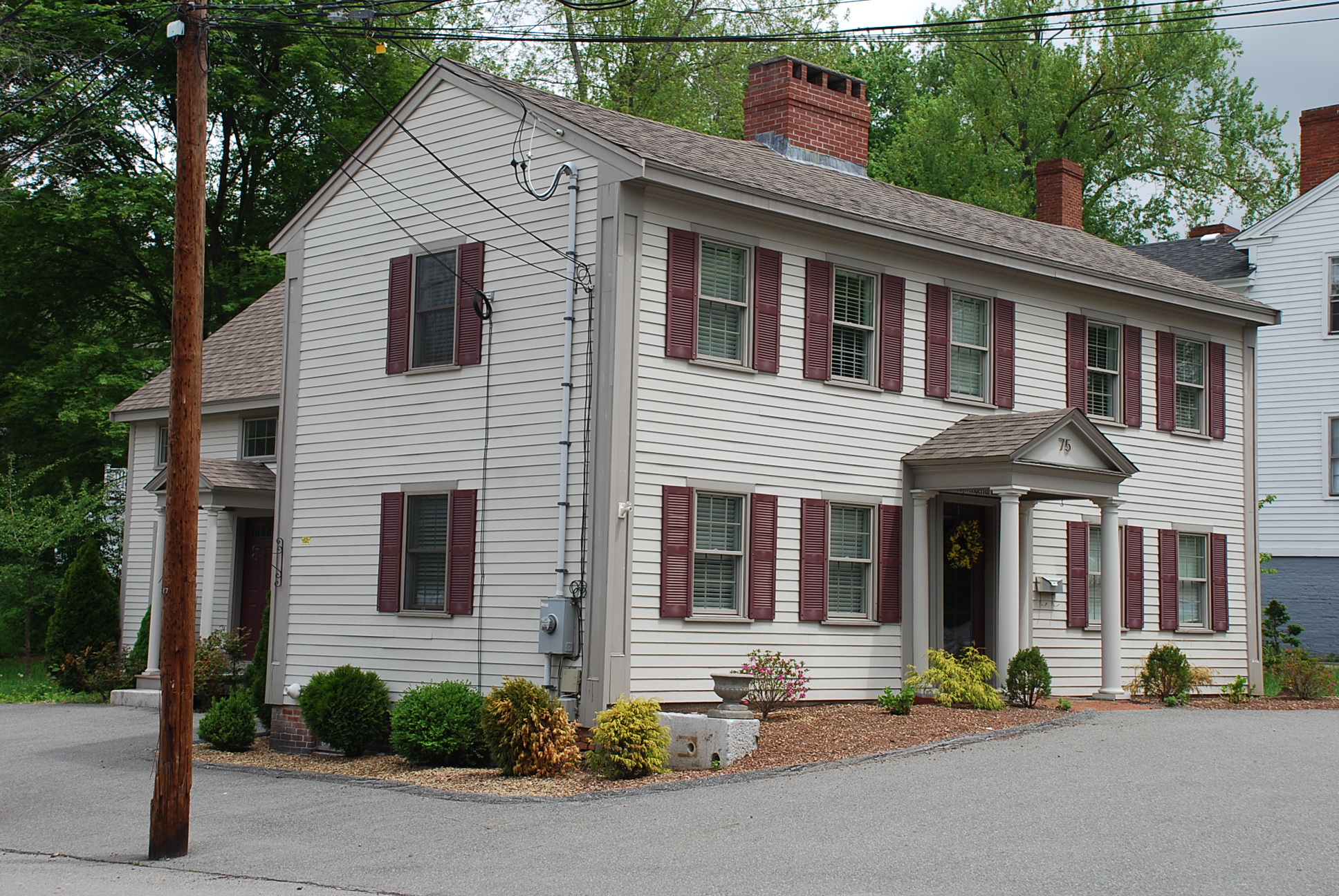 Abel & Paschal Abbott moved their wool mill operation here from North Parish about 1813 and sold to Smith & Dove Manufacturing Co. in 1843, which acquired several homes in the immediate area for their workers. The earlier history of this house is unknown. The single room depth, asymmetrical facade and central chimney suggest a house from the early 18th Century, while the exterior trim is indicative of a century later. The rear wing appears to be even later.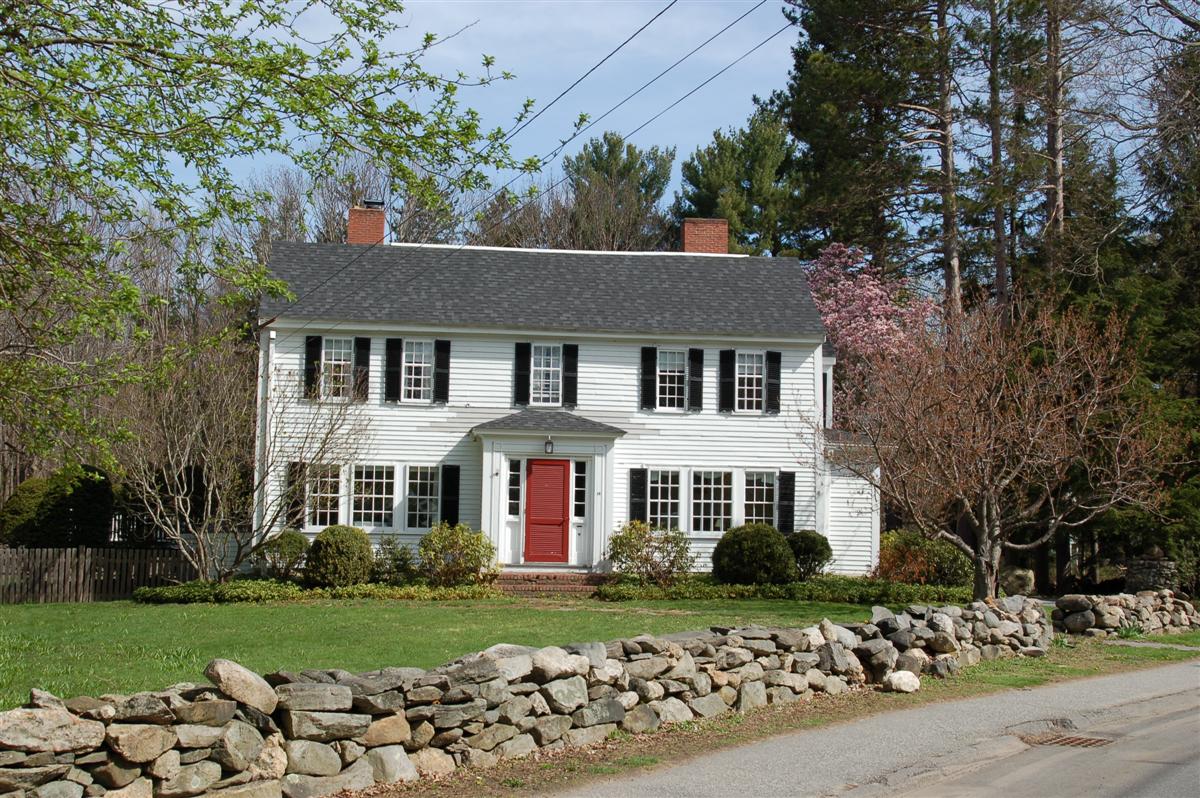 This house was constructed circa 1750 by John Chandler, and was sold 1780 – 1782 to Lt. Gov. Samuel Phillips Jr. and family, who moved here after vacating the George Abbot House, on Phillips Street. Moses Abbot of Andover, who married (1) Martha Frye and (2) Priscilla Flint, moved here after 1802. Visit Andover Historic Preservation.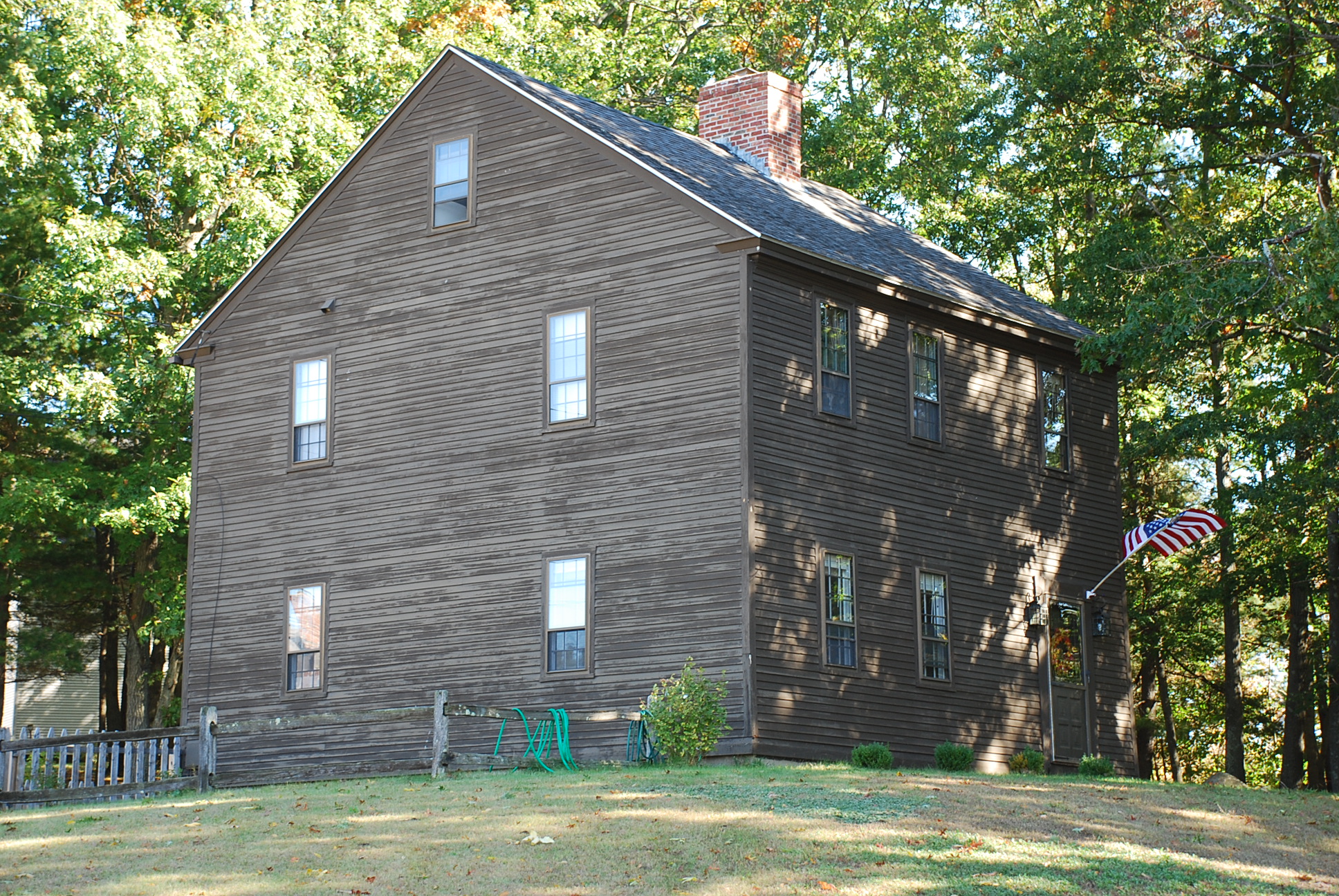 This house was originally part of the Col. Dudley Bradstreet farm, which later became Shattuck Farm. It is of two half-houses on the property constructed in the Georgian period, with a large kitchen fireplace and a paneled chimney breast, more often found in the late First to early Georgian eras. The interior displays Federal-era renovations. In 1981, the house was moved to 233 High Plain Road, after the original Shattuck property was sold to commercial developers. Visit Andover Historic Preservation.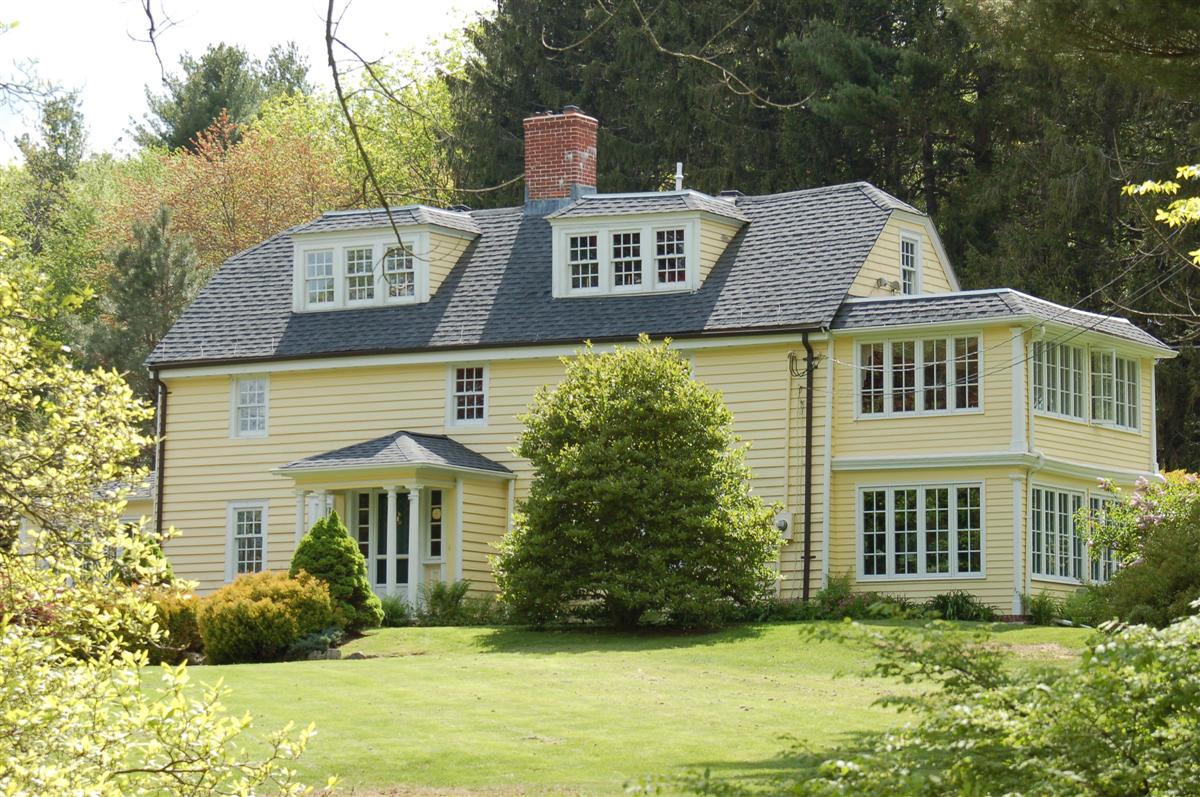 Although greatly altered, the oldest part of the house at 101 Holt Rd. features a First Period staircase, gunstock beams, chamfered hewn beams and Georgian paneling. The earliest owner of record is Joseph Holt Jr. born Jan. 20, 1790, son of Joseph & Abigail Holt. Visit Andover Historic Preservation.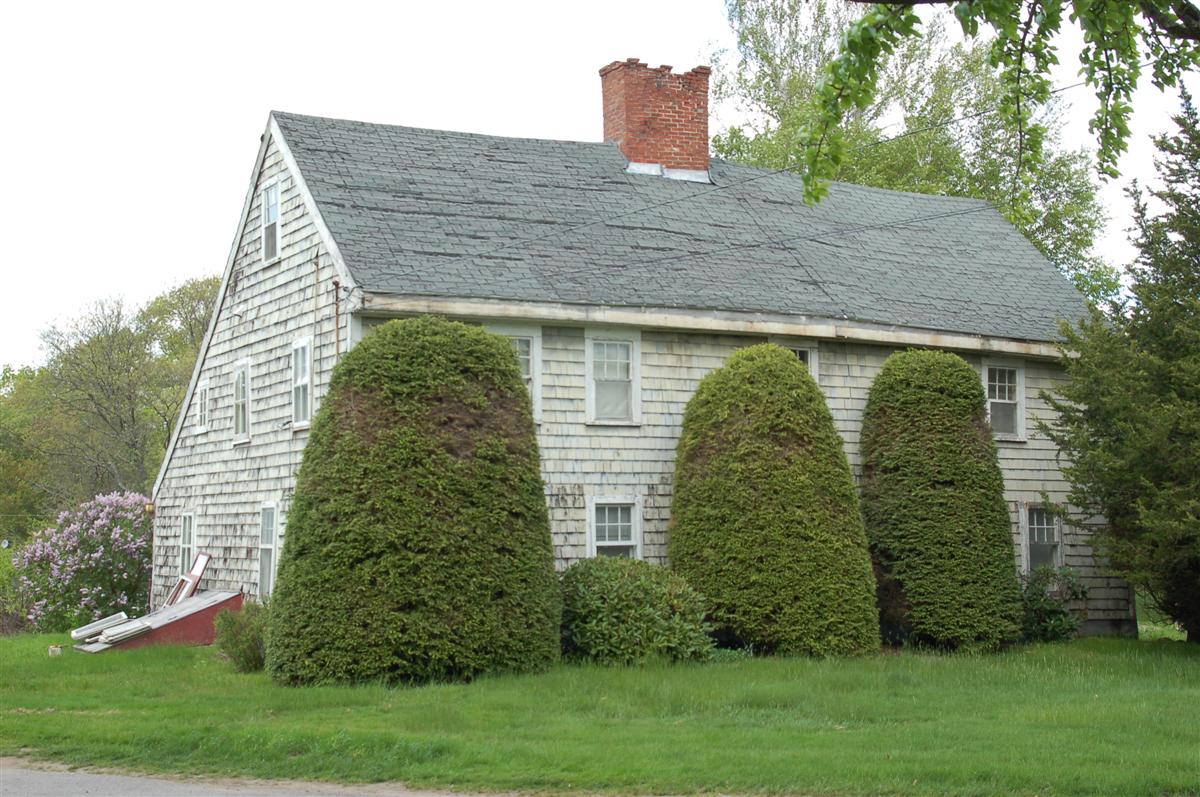 This classic but rundown New England saltbox provides ample evidence of its antiquity. On the roof to the right of the central chimney is a very visible line showing that it was expanded from an original half house. The "broken back" saltbox roofline indicates that the lean-to was an addition, not integral to the original construction. The upper window framing abuts the beam, rather than providing space for a frieze, as is found in later Georgian and Federal houses. The 1830 and 1852 Dorman maps of Andover shows Joseph Holt as the owner. This First Period house is currently in a visible state of decay. Visit Andover Historic Preservation.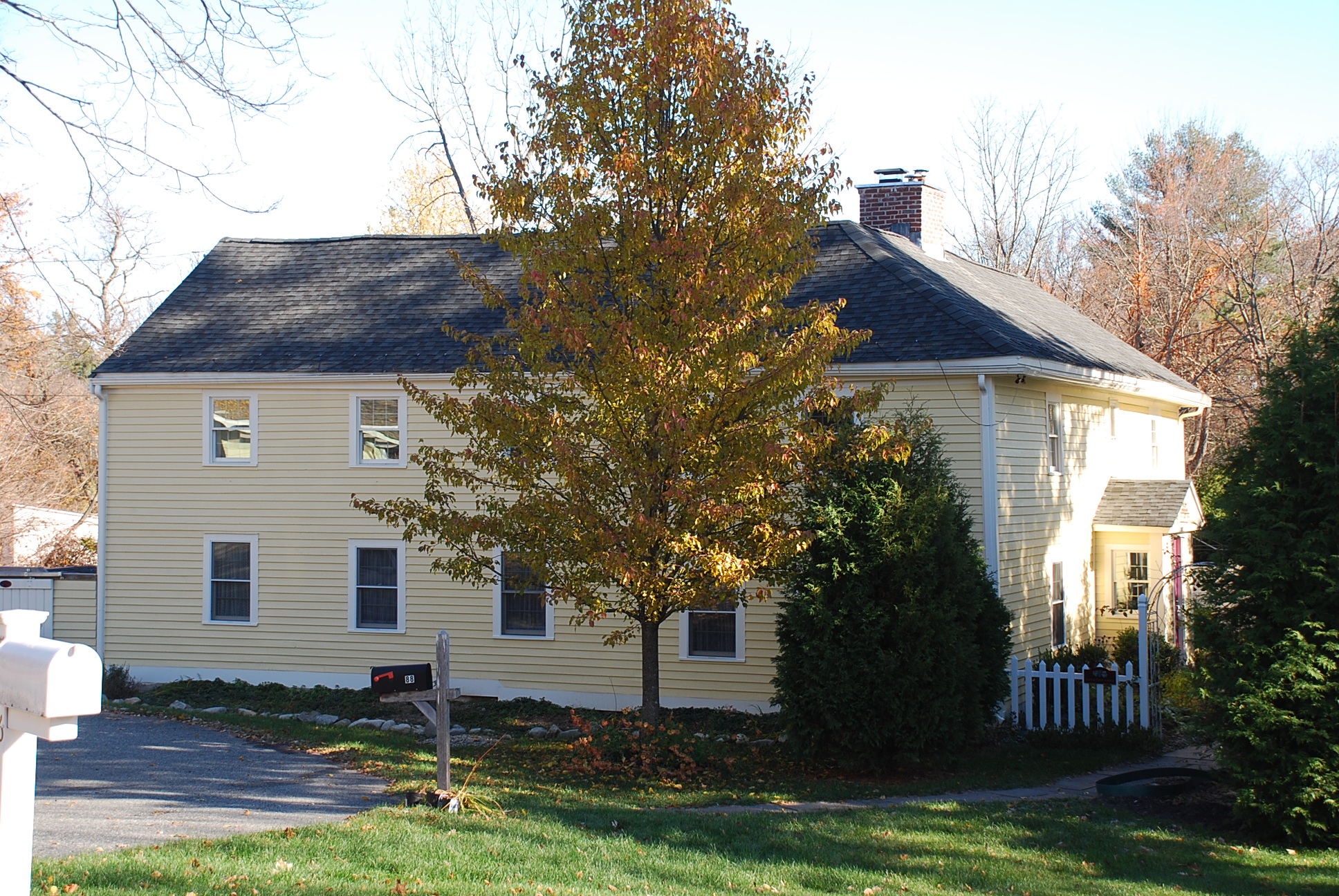 The oldest part of this house is traditionally said to have been built before 1673 by Captain Thomas Chandler, but it may date to 1688, when Thomas Chandler sold his son-in-law Captain Daniel Bigsby a piece of land next to his house. His daughter Hannah and her husband Captain Bigsby continued to occupy this house after the death of Hannah's parents. Summer beams in the oldest section are beaded rather than chamfered, suggesting construction during the transition period from 1700 to 1720. Features which testify to this house's age are gunstock posts, plank sheathing, wide floor boards and its preserved narrow staircase. Several additions have been made to the original four-room, lean-to house, including an 18th century ell and hipped roof. Visit Andover Historic Preservation.
Although the house at 108 Lowell St. is said to have been built about 1692, the tradition is not substantiated by its 2-pile mass.. Recently exposed beams throughout the house are rough and neither chamfered or beaded, indicating the early Georgian era or later. The fireplace and chimney are not original. The Mooar family owned the property in the nineteenth century and were direct descendants of Abraham Mooar (1660-1706). Visit Andover Historic Preservation.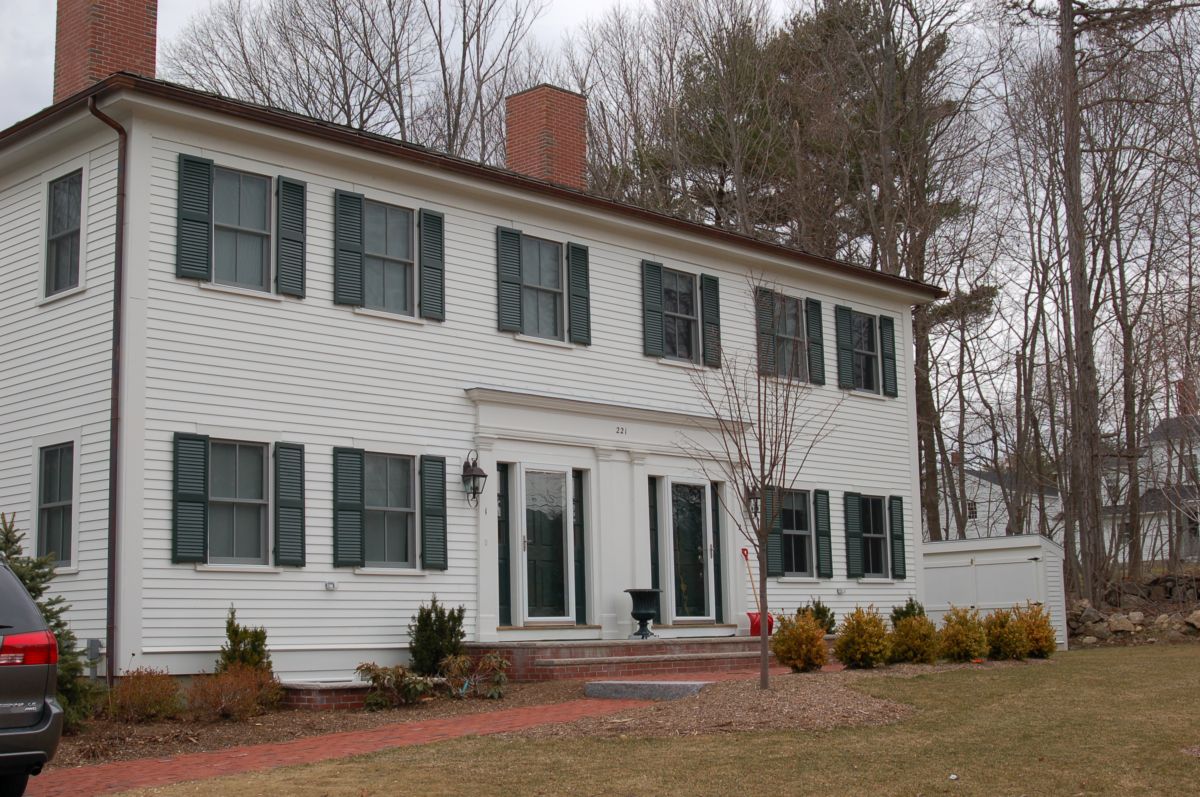 The one acre lot at 221-223 Main Street was once owned by George Wardwell. It was purchased by merchants Degrass and John Shipman on Feb. 3, 1824 for $300, who took a mortgage from the Trustees of Phillips Academy and built this double house.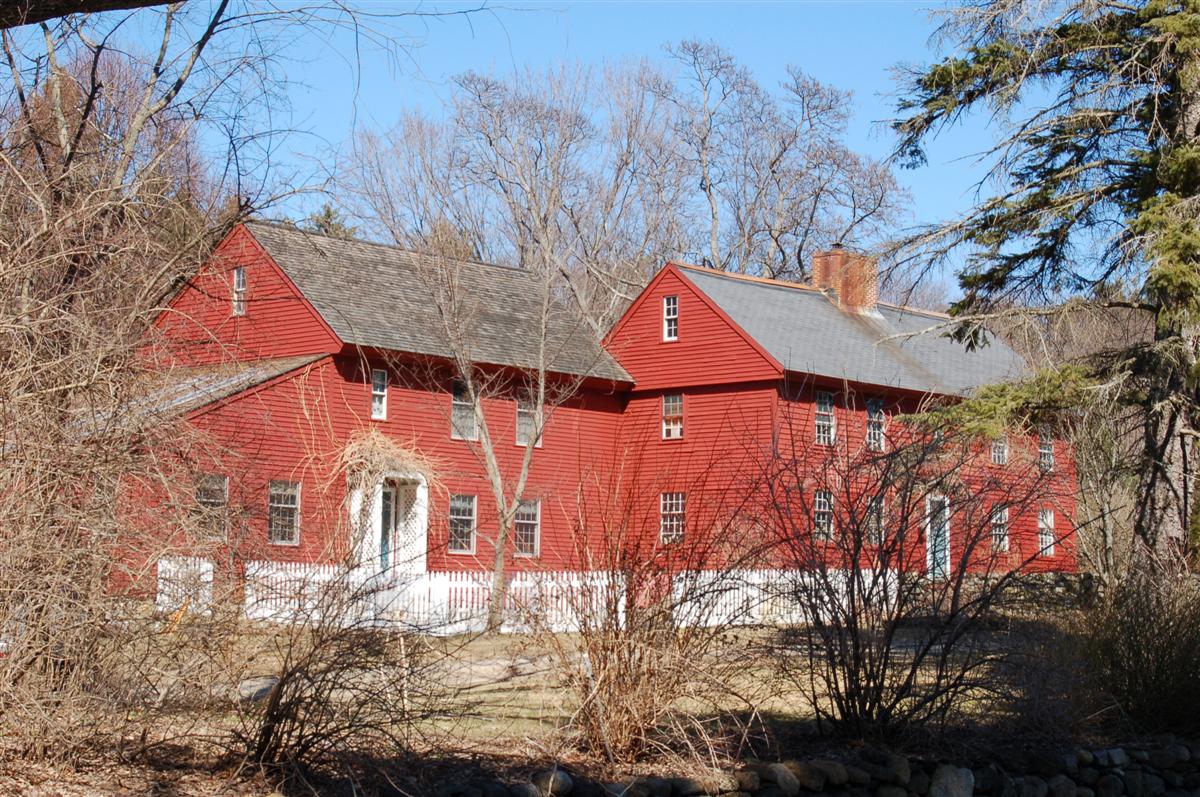 The Blanchard-Upton House was built between the time Thomas Blanchard acquired the land in 1699 and his death by 1740 when his son, Josiah, inherited the farm. The western half contains brick nogging between the inside walls and outer sheathing, suggesting it could be older. A massive 10′ wide fireplace is one of the largest in Massachusetts. The frame is integral throughout with an integral lean-to, and exposed interior framing features quirked beading typical of transitional early 18th century houses. Feather-edged interior sheathing suggests a 1730 date of construction. Visit Andover Historic Preservation.
The original building at 117 Osgood St. in Andover , traditionally dated from 1699, the year of Stephen Osgood's marriage to Hannah Blanchard, consisted of four rooms built around a central chimney; Isaac Osgood is thought to have added the eastern part of the house (making it L-shaped) and the northeast corner wing.
Deacon Daniel Poor (1740-1814) was a prosperous farmer and deacon of South Church, when he built this house. He served 7 years in the Revolutionary army in Capt. Benjamin Ames Company. He was at Lexington and Concord and Bunker Hill. He married Hannah Prye in 1763 and is said to have built this mansion house soon afterwards. The house had three Rufus Porter murals, a restored one in an upstairs bedroom. This house was the Old Poor Tavern during the Revolution but there is no other verification of this. The estate went to widow Hannah and son Nathaniel Poor who inherited via probate will on Oct. 12, 1821. She died Jan. 16, 1824. Nathaniel Poor sold the house to Ezra Abbott and wife Hannah on Feb. 11, 1823. The deed states, Mansion house, wood, corn and chaise houses and barn also the tan yard near by. Ezra Abbott sold to Isaac Jones and wife Nancy on Apr. 21, 1834 for $170
This property was once held by James Parker & Benjamin Ames Jr. both of Andover. A half-acre parcel was sold to John Wardwell, a Cordwainer, for six pounds on Nov. 3, 1794. The timber in this well-preserved vernacular cottage is hand-hewn and doweled with hand-forged nails.
The house at 37 Porter Road is said to have been built by Joseph Ballard in 1758 for himself and his widowed mother, two stories with gambrel roof. Thomas Manning moved to Andover and bought the Ballard house shortly after their marriage on June 6, 1769 to Mehitable Kidder b. Feb. 22, 1749.
The Ballard family owned the land, circa 1680s. The lot was purchased by the Blunt family about 1709. William Blunt sold to David Blunt in 1724. He had an only child, Mary F. who married Peter Shedd from Tewksbury and made their home here. Peter Shed sold the farm to Andrew B. & Mary Ann Stimpson of Reading, MA on Nov. 15, 1837 for $2850. The paired chimneys indicate a late 18th Century house, or that it was renovated by removing the original fireplace and chimney to create a central hall, which was common around the turn of the 19th Century.
The oldest part of the traditional saltbox house at 89 Prospect Rd. is said to have been built by Timothy Holt in 1714 on land granted to Nicholas Holt in 1661. Until 1883, the property was continuously owned and farmed by seven generations of descendants of Nicholas Holt. The front of the building has a later addition.
The Oxford Tree Ring Laboratory conducted dendrochronology study on the house and drew the following conclusion: "The Holt Hill Farmhouse, as built in 1714 or shortly thereafter, was five bays wide, two-and-one-half stories in height and faced south. Situated on a spectacular site, the highest point in Essex County, the house retains its original central chimney and has well preserved period interiors, including exposed framing in the east room. The house was extended to the rear several times, first by the erection of a lean-to, and then by the addition of an existing outbuilding that was drawn up and attached to the northwest part of the lean-to. The present owners added a sun porch with study above at the center of the facade. Nicholas Holt III (1683-1756), whose grandfather received the original land grant from the town of Andover, was the owner at the time that the house was built. The house has remained in the hands of Holt family descendants except for the period between 1876 and 1917. Six hundred and ninety-five acres of surrounding land were donated to the Trustees of Reservations in 1940 by the Ward family."
The property at 239 River Rd. was once owned by David and Priscilla Abbot, and was inherited by then son David Abbot Jr. No documentation is available to confirm the 1711 date of construction. The central chimney, symmetrical facade and 2-pile depth suggest the mid-18th Century.
The Andover assessors site gives a date of 1766 for the house at 249 River Rd., which is confirmed by its balanced façade, two-room depth, and central chimney. A considerable amount of fine Georgian paneling, doors and other woodwork has survived, and is in excellent condition. The front door opens to a small entrance facing stairs and the chimney wall, typical of early Colonials.
The elongated cape at 67 Salem St is said to have been built about 1704, but documentation is not available. Exposed unchamfered summer beams suggest it may date to a couple of decades later. The first known owner of this house was William Hawley, who purchased it in 1803. Job Abbott bought the house in 1835 as a wedding gift for his daughter Lucy, who married Joseph Holt in that year. The Holts moved the house across the street to its present location between 1852 and 1872. Architect George Sherwood bought the house in 1961 and restored it, keeping old beams but replacing other old materials with reproductions. Gunstock posts and unchamfered summer beams are exposed throughout the house.
The house at 212 Salem St. is said to have been built by Robert Gray at the beginning of the 18th Century. Robert Gray, mariner, married Hannah Holt and received this land as a gift from his father-in-law, Nicholas Holt. A 1765 deed transferred the property from from James Holt and James Holt III to Timothy Holt, with mention of dwelling-house. The original chimney was removed when the house was enlarged ca. 1765 to 1830.
The house at 373 South Main St. is traditionally said to have been built about 1740 by blacksmith Jonathan Holt on land of his father, Oliver Holt, and was sold to Thomas Holt in 1762, who sold to Samuel Cogswell of Chebacco Parish, Ipswich about 1764. Gunstock posts and unchamfered summer beams now exposed throughout the house suggest mid-18th Century construction. The saltbox house is two piles deep with a shed extension, which was added by Samuel Cogswell Jr. after his marriage to May Eaton in 1793.
The Abbott-Stinson house at 6 Stinson Rd. is traditionally dated c.1720-1726. This is consistent with the quirk-beaded frame seen throughout the west side, which was probably the kitchen and kitchen chamber. These elements are similar to the frame of the Parson Barnard House in North Andover (c.1715). Originally one room deep, its form was changed by later rear additions of the 20th century. There is no evidence, however, in the attic frame (principals with purlins and ridge pole) or stone cellar, that the house began as a one-room plan. The west rooms have exposed summer and tie beams, in the normal longitudinal and transverse directions respectively, both with quirked beads running to the ends without stops. The posts, girts, and plates are also quirk-beaded where exposed. The second floor west side has flared gunstock corner posts.
No construction data is available for the house at 13 Sunset Rock. Architectural features suggest the mid-18th Century.
Further reading:
Historical sketches of Andover, (comprising the present towns of North Andover and Andover) by Bailey, Sarah Loring